You know when you find some little gem of a band, you go and see them in tiny venues and bore your friends talking about their genius for hours, then one day BOOM! they are the name on everyone's lips and you want to cry out 'but I saw them first!' well, that is a little how I feel about Caitlin Moran. I have been reading her work for as long as I can remember and have a well-thumbed 'Chronicles of Narmo' on my shelf, I've grown up with her writing alongside me, a guide for every age. Lucky enough to see Caitlin speak at several literary events (I am one of those people who always ends up on a busman's holiday, my days off work are spent seeking out more bookish delights) I've always had an amazing time. I've cried laughing when she lifted her top up to a sold out audience of over 1000 people to reveal eyes drawn on to her bra while she made a smiley face with her stomach, and then more crying, this time in recognition, as she talked about her younger years and struggles with self-confidence over her body image (she gave me a massive hug afterwards to make sure I left less of a tear stained mess!)
In January this year I was sitting having a look through twitter (plus ca change) when I spotted Caitlin's announcement that she was bringing out a new book, Moranifesto (watch her announcement here http://www.caitlinmoran.co.uk/scream-here-i-am-talking-about-my-new-book-moranifesto/ ), now I work in a bookshop that holds author events so, despite the fact it *may* have been a rather late hour, I'm sure my colleague was delighted when I sent her a text in a somewhat dramatic fashion "CAITLIN HAS ANNOUNCED A NEW BOOK, WE MUST GET HER TO MR B'S FOR AN EVENT WE MUST WE MUST WE MUST!!!!" Lo and behold, WE HAVE!! (in case you live in/near Bath by the way and haven't got your tickets, here are the details http://www.mrbsemporium.com/index.php/categories/362/tickets) Planning began immediately for what is set to be a great evening, which I can tell you has got even more exciting with the announcement that Caroline Criado-Perez is going to be on stage with Caitlin asking the questions we all want answered!
I am not here talking about Moranifesto just yet though, you don't want me ruining it with any spoilers! No, I am here to have a chat about the rest of Caitlin's work and what it means to me as a reader and bookseller. Let's think of this space as our own Moranibookclub (I TRIED ok?! We need Caitlin for the puns, charging her usual £77,777 fee which you will understand if you read her hilarious weekly 'Celebrity Watch' column in The Times). I'll have my bit of chatter about her books and then you dear readers can respond with your comments – let's go!
The book that really got everybody talking was her award winning 'How to be a Woman', a memoir that walked us through all of the pivotal moments in her life as a woman. Beginning at age 13 we find Caitlin eating a 'cheese lollipop', a giant wedge of cheddar with a fork stuck in it, and weighing as many stones as years she'd lived. Home schooled by television and books taken out of her local library in Wolverhampton, she grew up with little space to be found in her home, with 5 brothers and sisters, mum and dad all vying for their own corner. We get chapters covering her first period, her first experience of sexism, a birth and an abortion. All are written about with sensitive care when needed, and also brutal honesty that can lead to moments of side splitting laughter. Amongst the stories from her past Moran also uses this book as her call out to join the feminist cause. Saddened by how the meaning of the word has become twisted over to time so that people believe it means such things as 'man hater', she makes it nice and clear for us all, providing us with the 5 rules of feminism:
"1) Women are equal to men
2) Don't be a dick
3) There are no more rules"
I think this book had such a huge impact because it reached out to women of all ages in a way no other had, it spoke honestly about shared experiences, not talking about them in hushed tones but saying 'look, if 52% of the population experience these things, can't we talk about it openly and with a bit of humour and understanding thrown in for good measure?'. If we could somehow get schools on board with giving this out when both boys and girls hit senior school it could do wonders, teaching them to have confidence in their own opinions, the power of the word 'no' and perhaps most importantly right now, the reassurance that a sexual relationship does not have to resemble that which they see passed round on their mobile phones.
How To Be A Woman by Caitlin Moran £8.99 (Ebury Press)
While this book was cheered on globally, Caitlin continued on with her journalism (I'd list her awards for this but it might crash the site), she began to cover topics such as the welfare state, the refugee crisis and…Benedict Cumberbatch. She brought tears to many with her moving letter published to her daughter, beginning "Hello, it's Mummy. I'm dead. Sorry about that" (watch her reading a shorter verion live on Newsnight here https://www.youtube.com/watch?v=NEZHGNZgTl4)
Readers were provided with a great treat when 'Moranthology' was published, a collection of her best articles from writing at The Times and numerous other publications.
Moranthology by Caitlin Moran £8.99 (Ebury Press)
More and more fans were drawn to her by discovering her twitter account, a place where she happily admits she spends a vast amount of her time, describing why she loves it "I know people go on about Twitter, but it is amazing. It is whatever you want it to be, and all the women got in there before the boys". It was in her twitter feed that we were notified of the next project we would need to make room for on our bookshelves, her first piece of fiction since 'Chronicles of Narmo' at 16, she was going to be releasing 'How to Build a Girl'. This piece of fiction is a joy to read, as we meet our 14 year old protagonist Johanna, we watch the messy joy and drama that is being a teenage girl unfold before our eyes. There are semi-autobiographical moments throughout this story, moments that will have you almost wanting to read while peeking through your fingers in embarrassment for Johanna, it left me with a smile on my face and reflecting on my own awkward experiences.
How to Build a Girl by Caitlin Moran £7.99 (Ebury Press)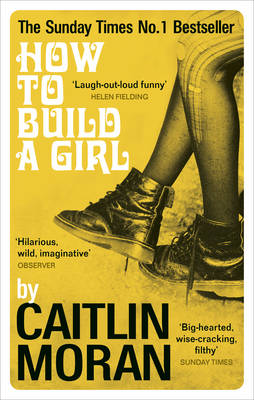 The great thing about Caitlin for me as a bookseller, is that when a young woman comes in the shop asking for either fiction or non-fiction that will in some way reflect something of their lives, I know I can head to the 'M' section, grab any Moran book and they will be leaving in good hands. I think that all of her writing comes for a place of real warmth and love for women of today, she wants them to laugh but also know that they are not alone, she never pushes it too far and makes you feel scared, but then neither does she shy away from the truth.
I can't wait for you all to read her next offering and to hear feedback on what you think about her 'Moranifesto', and hopefully I will get to see some of you at the event! Get in touch if you have read any of Caitlin's books in the past and share your experience.
Until next time…
Happy Reading!